Kusoglu Lab Research
Our research theme is the structure-property characterization and modeling of ionomers and solid-polymer electrolytes to understand and improve their stability & functionality in electrochemical technologies - from the polymer-electrolyte and alkaline fuel cells to electrolyzers and flow batteries.
Our research approach involves data-driven design and understanding of ion-containing polymers (ionomers) and thin films at electrode interfaces, including interrogation of their transport functionality and mechanical stability as well as morphological characterization through state-of-the-art synchrotron X-ray techniques at the Advanced Light Source (ALS).
Research projects and activities:
Structure-Function relationships of ionic polymers for energy conversion and storage

Understanding transport-stability correlations in anion- and cation-exchange membranes

Development of characterization techniques for morphology and mechanics of polymers (with the 

ALS

)

Investigation of hybrid ionomers and composite structures for multi-functional separators

Data-driven membrane design with Machine Learning for energy devices
Material studies for Million Mile Fuel Cell Truck (M2FCT) and H2NEW consortia

Exploration of membrane chemistries for improved transport or durability

Enhancing membrane durability to monitor and mitigate chemical-mechanical degradation

Elucidating ionomer thin-film behavior to improve electrode performance and cell efficiency 
Characterization of solid polymer-electrolyte membranes and interfaces for clean energy

Direct Carbon Capture and CO2-reduction devices

All-solid-state batteries 

Redox Flow Batteries
Electrochemical-Mechanical Phenomena

Understanding and mitigation of chemical-mechanical failure in solid-polymer electrolytes and interfaces

Fundamentals of structure-transport-deformation relationships in adaptive, functional polymers

Mechanochemistry in ion-containing soft matter and hybrid separators
Highlights: Materials Research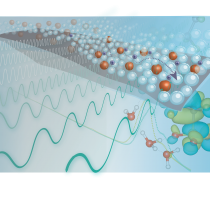 Using multiple x-ray characterization tools at the Advanced Light Source (ALS), we showed how chemical and structural changes improve the performance of a novel ion-conducting polymer (ionomer) membrane from 3M. The work provides significant insight into the factors impacting the proton conductivity of ionomers used for fuel cells and the production of hydrogen fuel.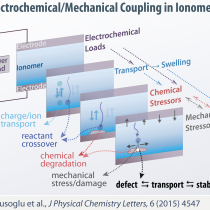 This article discusses the chemical−mechanical coupling phenomenon in ionomers with a focus on their failure as polymer-electrolyte membranes in electrochemical energy devices, and fundamentals of the mechanochemistry in other functional soft matter.
Spotlight: Clean Energy Applications
Recent Publications
Hernandez, Victor
,
Robert S. Jordan
,
Ian M. Hill
,
Bohao Xu
,
Chenxi Zhai
,
Di Wu
,
Hansong Lee
,
John Misiaszek
,
Kiana Shirzad
,
Miguel F. Martinez
,
Ahmet Kusoglu
,
Jingjie Yeo
, and
Yue Wang
.
"Deformation Rate‐Adaptive Conducting Polymers and CompositesAbstract."
Small
19.35 (2023).
DOI
Li, Chenzhao
,
Kang Yu
,
Ashley Bird
,
Fei Guo
,
Jan Ilavsky
,
Yadong Liu
,
David A. Cullen
,
Ahmet Kusoglu
,
Adam Z. Weber
,
Paulo J. Ferreira
, and
Jian Xie
.
"Unraveling the core of fuel cell performance: engineering the ionomer/catalyst interface."
Energy & Environmental Science
16.7 (2023) 2977 - 2990.
DOI